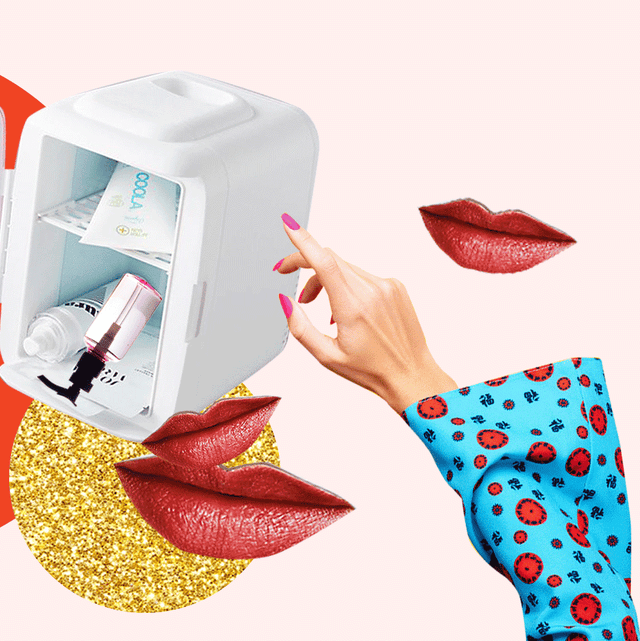 Courtesy Image/Abby Silverman
Beauty fridges? Of course you need one! But no, seriously, they can be super useful and here's why: "A skincare fridge keeps your makeup and facial products between a temperature of 45 and 50 degrees, prolonging their shelf life a bit," says dermatologist Mona Gohara, MD, associate clinical professor at Yale. "They're actually better than your kitchen fridge because they're small enough to keep in your bedroom or bathroom, they're slightly warmer in temperature [your kitchen fridge should be 40 degrees or below], and they won't make your products smell like last night's leftovers."
And because putting your products on ice literally chills them out, a beauty fridge can help you feel even more refreshed as you apply your favorite eye cream, nighttime moisturizer, or a hydrating mask (has it been a long week for everyone because SAME?!). "Not to mention the cooling brings down any facial puff," says Dr. Gohara. On board? Thought so, which is why I rounded up the nine best skincare and makeup fridges of all time, below.
Advertisement – Continue Reading Below
1
This Faux Marble Beauty Fridge
Teami Mini Skin Care Refrigerator
urbanoutfitters.com
$119.00
This cute mini skincare fridge has two removable shelves, so you can stash taller beauty products in it. Plus, it has a little compartment on the door so you can fit that jade roller you're obsessed with in it.
2
This Plastic and Aluminum Skincare Fridge
Cooluli Mini Beauty Refrigerator
If you're not into the pink exterior, this baby skincare fridge also comes in all white and a cow print! 
3
This Retro Beauty Fridge
Frigidaire Portable Retro 6-can Mini Fridge EFMIS129, Pink
How cute is this retro skincare fridge (that can also store your favorite snacks, drinks—really whatever you'd like to keep cold next to your bed)?! Oh, and it comes in blue, red, and black, too.
4
This Clear Makeup Fridge
Fria Skincare Fridge
If you want to keep your beauty fridge on display, this all-white (it also comes in rose gold) option is perfect, since it has a clear window for you to keep track of everything you've stashed inside. 
5
This Coral Skincare Fridge
FaceTory Portable Coral Beauty Fridge with Heat and Cool Capacity
FACETORY
amazon.com
$89.00
What's cool about this beauty fridge is that there's a dry erase board on the inside, so you can write reminders to yourself (like when you purchased that lotion or mascara, maybe?) in addition to being able to hold up to 10 liters worth of stuff.
6
This Peach Beauty Fridge
Frigidaire Retro Mini Fridge
This roomy peach-colored fridge can hold all your face masks, all your creams, and alllll your eye patches so you can chill TF out on self-care Sunday. Oh, and it comes in a bunch of colors, like blue, red, silver, black, and pink. 
7
This Futuristic-Looking Beauty Fridge
Uber Appliance UB-XL1 Personal Portable Mini Fridge
Okay, here's what you can fit into this futuristic-looking baby: 12 12-ounce cans of whatever your heart desires. So, whether you're scooping this mini cooler to stash your sparkling (and spiked) lady waters, or using it as a beauty fridge, rest assured its 40-45 degree temp will keep your drinks, makeup, and skincare super ~chill~. 
8
This Totable Skincare Fridge
Ktaxon Countertop Mini Fridge
Not only will this beauty fridge hold your AM and PM routines—picture six cans of soda stacked high, if you're wondering how much it can actually store—it also has a little handle that makes it easy to tote when you go to college or head home for the holidays. 
9
This Teal Beauty Fridge
Nostalgia Retro Countertop Mini Fridge
The peek-a-boo window and chrome door latch (even though you can't see it pictured here) on this skincare fridge gives it a cool vibe that'll fit seamlessly into any '50s decor. And, BTW, it also comes in black!
Advertisement – Continue Reading Below